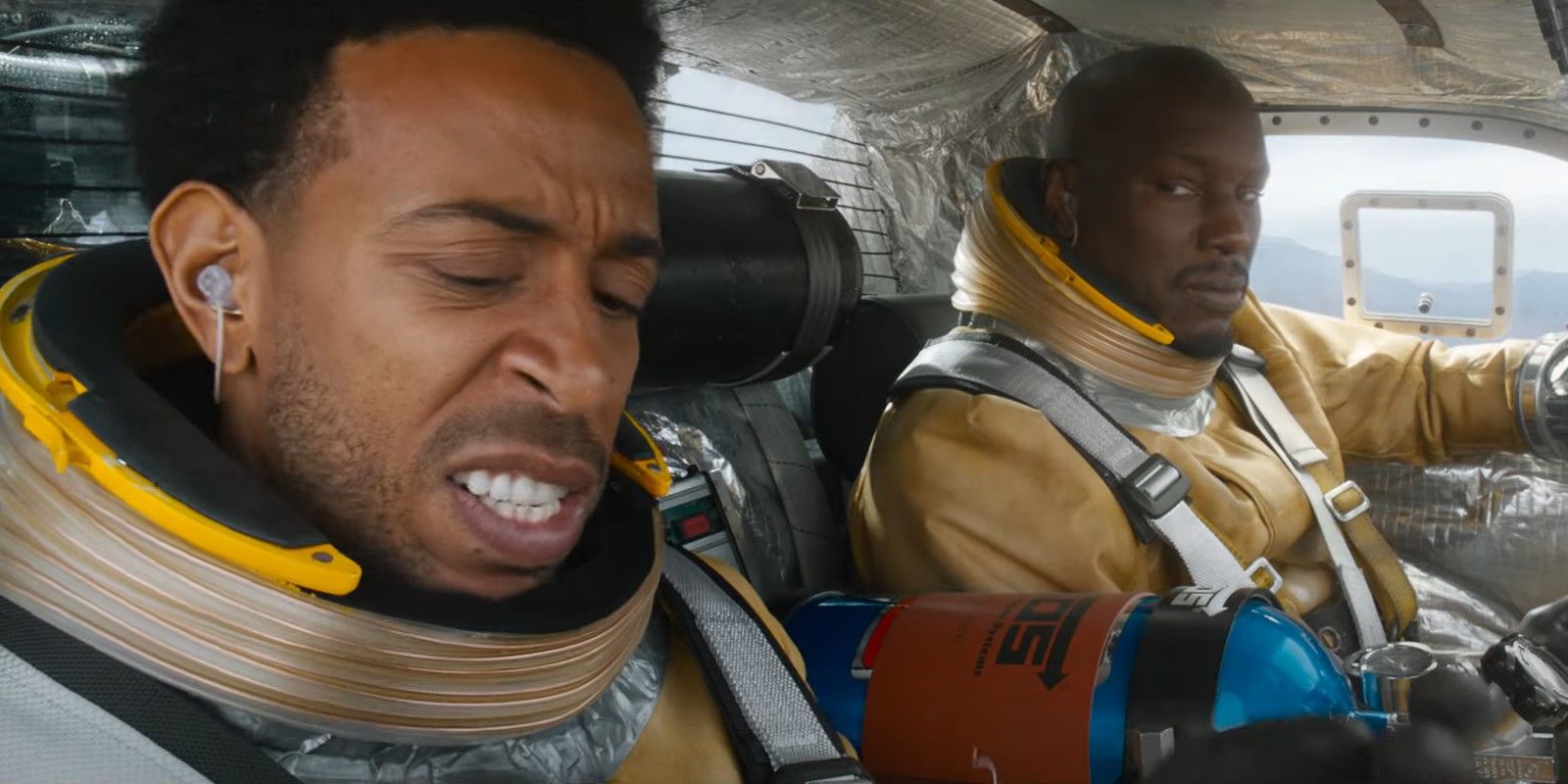 The Fast Saga's Tyrese Gibson reflects on his initial reaction to hearing F9 would take his character Roman to space alongside Tej (Ludacris).
Much like the rest of the world, Tyrese Gibson thought the news that F9 would be headed to space was a joke. After being delayed a year by the coronavirus pandemic, the ninth film in The Fast Saga has finally arrived in a blaze of glory, or at least the pandemic-era equivalent to such. Fast & Furious 9 rolled out in North America over the last weekend in June and notched the biggest opening weekend since late 2019. It is expected to cross $500 million worldwide in the coming days, making it the highest-grossing Hollywood movie of the year so far.
F9 picks up with Dominic Toretto (Vin Diesel) and his family as a new threat emerges. This time, it's personal, since their latest enemy is Dom's brother Jakob (John Cena). Between the surprise introduction of Jakob and the resurrection of Han Lue (Sung Kang), F9 cements itself as one of the biggest Fast Saga installments yet. To top it all off, the movie makes good on a joke that has long lived on the internet by actually taking some of its characters to space. Roman (Gibson) and Tej (Ludacris) jet off into the upper atmosphere in the third act to save the day, a move that took many by surprise when it was revealed in F9's trailers.
Continue scrolling to keep reading
Click the button below to start this article in quick view.
Related: F9: Why They Go Into Space (How Realistic Is It?)
Fans weren't the only ones stunned by F9's decision to go for broke with space travel. While speaking to Vulture, Gibson shared what his first thoughts were when he learned about the franchise going to space. "First thing I did was chuckle, and then I chuckled again," he said. "Then I had to ask them, were they serious? Then I asked them again." As Gibson began to think about it more, he had his doubts, and he even pitched another character going up instead of Roman. Gibson explained:
At first it was like, "Come on, guys, it's gonna be corny as hell." Then when I got to set and realized how serious they were, I actually started campaigning for Ludacris to go to space with his counterpart Nathalie Emmanuel. Because I thought, these characters are always talking about gadgets and computers and that's not something I really do. Then they just shut it down, man, and I just ended up letting them do what they do. And now my phone is going crazy, not just about us going to outer space but about what I ended up saying and doing when I went to outer space. So they make the big bucks for a reason, they know more than I do.
Gibson's initial reaction to F9 going to space is similar to Diesel's, as he explained he went back and forth between disbelief and uncertainty. There have been some mixed reactions to the space sequence, with some feeling it is just a bit too ridiculous. Still, no one can say the Fast & Furious franchise isn't willing to try new things. Now that space has been conquered, who knows what will come next in the series' final two movies?
Even aside from the space stunt, F9 features plenty of jaw-dropping action scenes. From racing landmines to utilizing a magnet car, Fast & Furious 9 doesn't hold back when it comes to its stunts. Though its stars expressed some apprehension, it sounds like everyone came on board by the end. It'll be quite interesting to see where the franchise goes in the future, though it seems likely that more space will be on the way.
More: Every Fast & Furious Movie Ranked From Worst to Best (Including F9)
Source: Vulture
James Gunn Corrects Typo on Suicide Squad 2 Ratcatcher Merchandise
About The Author
Share this news on your Fb,Twitter and Whatsapp