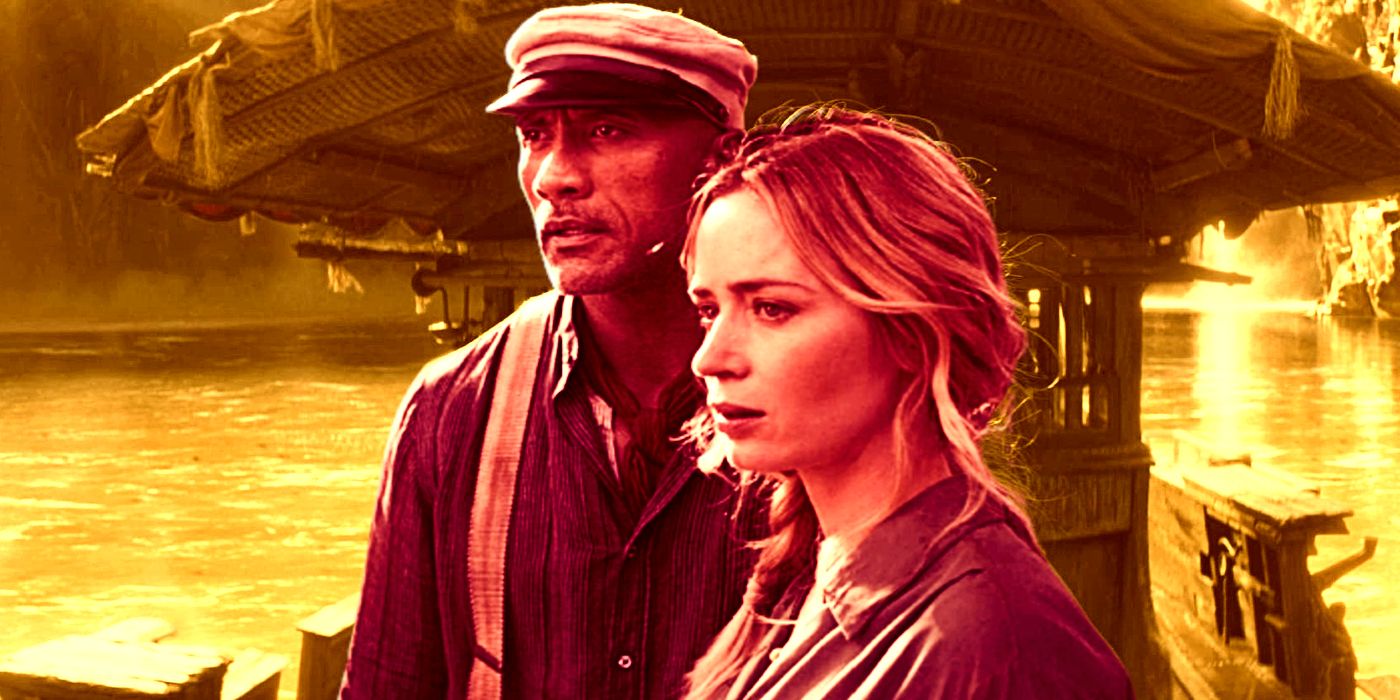 With Jungle Cruise's star power and story setup, a sequel to the film is officially on the horizon. Here's everything to know about Jungle Cruise 2.
Warning! This post contains spoilers for Jungle Cruise. 
With the success of the first installment, what can fans expect from the story and cast of Jungle Cruise 2, and when could its release date be? Starring Dwayne "The Rock" Johnson and Emily Blunt, Jungle Cruise arrived in theaters and on Disney+ Premier Access in July 2021 after a year-long delay due to the pandemic. The film, which is based on the Disney theme park ride, may have wrapped up its main story, but the movie has already proven popular and successful enough to warrant another trip around the river bend. 
Set in 1916, Jungle Cruise follows Dr. Lily Houghton (Blunt), who travels from England to Brazil in search of the legendary Tree of Life, the petals of which have the ability to heal. To take her on this journey, she recruits Frank Wolff (Johnson), a boat tour guide who resides on the Amazon and whose past is shrouded in mystery. The adventure film follows in the same vein as The Mummy and Pirates of the Caribbean, another of Disney's films based on a theme park ride. 
Related: Where Was Jungle Cruise Filmed (& How Much Is CGI?)
Jungle Cruise has a pretty self-contained story, but a sequel was never off the table and there were early talks to return for another installment before the film was released (and it's always one looming on the horizon for any new release these days). And considering Blunt and Johnson's star power, it's no surprise that Jungle Cruise 2 is moving forward. Here's everything to know about the sequel, who will be back, and what to expect in terms of story.
Jungle Cruise 2 Is Confirmed
A sequel for Jungle Cruise has officially been given the greenlight at Disney, just months after Dwayne Johnson revealed there were discussions about it. Director Jaume Collet-Serra will be back to helm the sequel, with Jungle Cruise screenwriter Michael Green set to write the sequel's script. Also returning will be the original film's producing team. What's more, Jungle Cruise producer Beau Flynn previously indicated that, while the film wraps its story up in the end, the filmmakers have designed "paths that can go to future worlds." Considering the film draws plenty of comparisons to Pirates of the Caribbean, it's likely Disney will take the concept of Jungle Cruise and expand it beyond the parameters of the original storyline for the sequel.
Jungle Cruise 2 Release Date Prediction
With Jungle Cruise having only just been released and a sequel still in very early development, Jungle Cruise 2 doesn't have a release date and probably won't release for a while yet. The first film made a decent splash financially — $35 million at the box office in its first weekend (excluding its Disney+ earnings) and surpassing $100 million domestically — and Disney execs didn't take long to decide on a sequel. With all that in mind, it's possible a second installment could hit theaters in the summer of 2023 at the earliest, with a 2024 release being a possibility as well. It's also worth noting that Johnson and Blunt have busy filming schedules, so it remains unclear when filming on the sequel will finally begin.
Jungle Cruise 2 Potential Cast
Emily Blunt and Dwayne Johnson are definitely returning for Jungle Cruise 2 as Dr. Lily Houghton and Frank Wolff, respectively. And although Jack Whitehall has yet to make things official, it's more than likely he would return for the sequel as well. Jesse Plemons' character was crushed by a boulder, and Edgar Ramírez and his fellow conquistadors were turned to stone in the end, so it's doubtful they would return for the sequel. Paul Giamatti, on the other hand, might reprise his role as Nilo Nemolato, Frank's boss; his role in Jungle Cruise wasn't necessarily important enough to warrant a return, but a sequel could give him more to do.  
Jungle Cruise 2 Story Details Are Unconfirmed
The ending of Jungle Cruise saw Frank and Lily tangling with Aguirre, a long-dead conquistador, and Prince Joachim, a German aristocrat who wanted access to the Tree of Life for purely selfish reasons. While Frank sacrificed himself to turn Aguirre to stone, and Joachim was crushed by a boulder, Lily used the last petal to heal Frank, bringing him back to life. Frank, now free of the curse that kept him alive for 400 years, joined Lily in London to start his life anew while she took a job as a Cambridge professor. The story wrapped up most of the film's loose ends, but there's a chance Jungle Cruise 2 could focus on another curse that Lily finds or has been researching. Though no story details have been confirmed, this could send her, Frank, and brother MacGregor on another continent-hopping adventure.
With Johnson's Frank no longer tethered to the riverside and his curse broken, there are plenty of avenues the plot could take that don't require him to stay put in the Amazon. What's more, Jungle Cruise follows some of the premise from Pirates of the Caribbean, which closed out one story and introduced an entirely new one in its sequel, so it's likely the latest Disney film will take another page out of its book and do the same. And while Jungle Cruise did leave certain things open-ended — for example, Aguirre could theoretically return if someone were to free them from the tree somehow — it's more likely Jungle Cruise 2 will tackle a fresh story with new characters rather than revisiting old ones. 
Next: All The Live-Action Disney Remakes In Development
One Eternals Deviant Villain Is The Size Of An Ocean Liner
About The Author
Share this news on your Fb,Twitter and Whatsapp