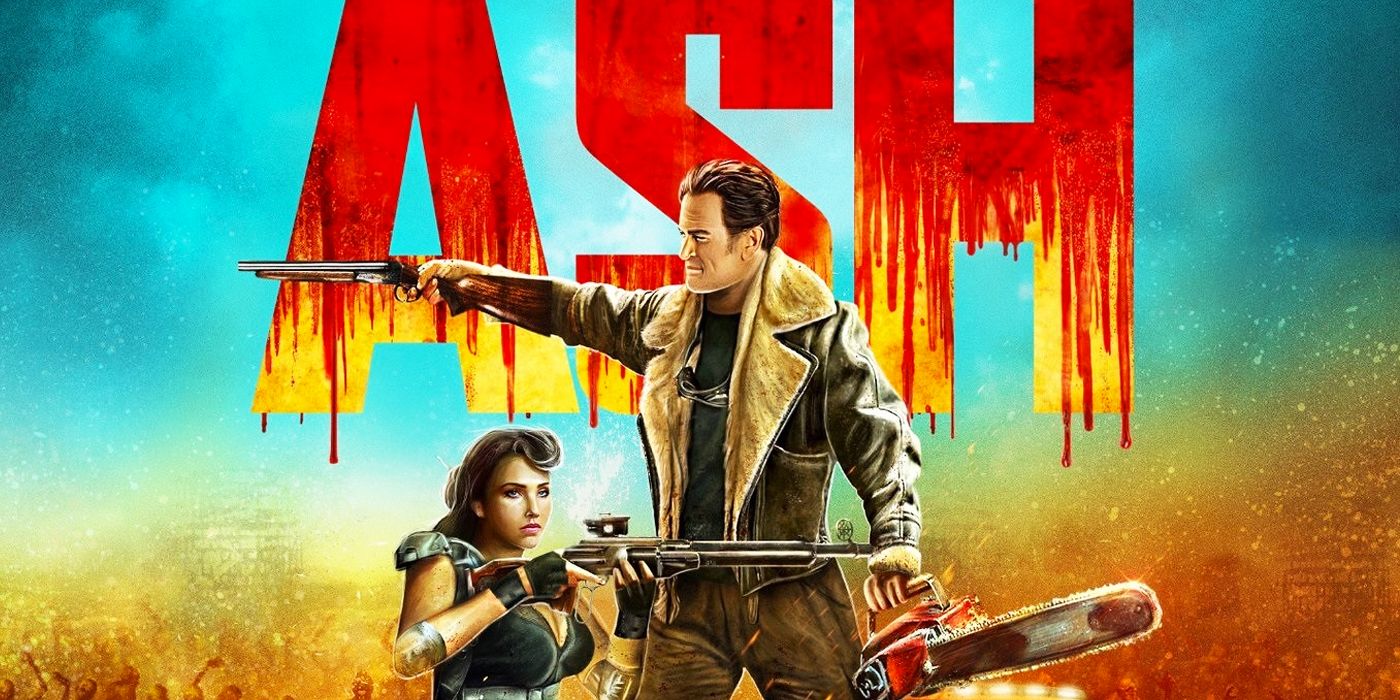 Sam Raimi and Bruce Campbell had big plans for Ash vs Evil Dead season 4. Here's why the series was cancelled before they could finish the story.
Ash vs Evil Dead was cancelled before season 4. The Evil Dead sequel gave viewers a look into the later life of horror icon Ash Williams, famously played by Bruce Campbell. By transitioning the franchise into a TV series, the creators were able to expand the Evil Dead mythos across three season.
Campbell and Evil Dead series creator Sam Raimi didn't hesitate at the opportunity to bring back Ash Williams. This time around, they ramped up the comedic side along with an ample amount of blood and gratuitous gore. Ash vs Evil Dead, which aired on Starz from October 2015 until April 2018, excelled at showing Ash in a new light, especially with his new trusty sidekicks, Pablo (Ray Santiago) and Kelly (Dana DeLorenzo).
Related: Bruce Campbell On Why A Freddy Vs Jason Vs Ash Crossover Film Wouldn't Work
Each season of Ash vs Evil Dead presented an increasingly new level of danger. As the stakes grew higher, so did Ash's responsibilities. Not only did Ash have to deal with being a father to a recently discovered teenage daughter, Brandy (Arielle Carver O'Neill), but he also had to face more than the typical threat of Deadites. The fate of the universe was in Ash's hands with the threat of Kandar the Destroyer, a sixty-foot-tall demon creature. In Ash vs Evil Dead season 3's final showdown, Ash seemed to sacrifice himself to save the world but he was revealed to be saved by an unknown group. When he woke up, years had gone by but before viewers could get answers, Ash vs Evil Dead was canceled. 
Before the premiere of Ash vs Evil Dead season 3, the previously released seasons were streamed on Netflix. They were a hit with subscribers and the cast and crew had hoped that it would have a positive effect on the new season. Unfortunately, season 3 saw a steady decline in viewership numbers during real-time broadcasts. Starz didn't want to depend on Netflix's influence so they officially canceled the series despite the cliffhanger ending. 
The cast had rallied for a fourth season and was outspoken about the show's future. Following the cancellation news, diehard Ash vs Evil Dead fans created the #BringBackBoomstick campaign on social media, a nod to Ash's weapon that he referred to as his "boomstick." Viewers hoped that another network, or possibly Netflix, could take over Ash vs Evil Dead to give the series a proper ending but the cancellation was deemed final. 
The creators have shared what Ash vs Evil Dead season 4 would have looked like had the show been renewed. Raimi and Campbell were developing a storyline that was compared to Mad Max. It would have taken place in the future as hinted at during the Ash vs Evil Dead series finale, focusing on Ash as he explored the post-apocalyptic world as he presumably reunited with Pablo, Kelly, and Brandy. Following the cancelation, Campbell has stated that he officially retired from his portrayal of Ash.
A New Evil Dead Movie Is Coming In 2022
While Ash vs. Evil Dead season 4 isn't happening, that doesn't mean the Evil Dead franchise is dead and gone. In 2022, HBO Max will play host to Evil Dead Rise, a new chapter in the surprisingly large book of Evil Dead. Original creator Sam Raimi and star Bruce Campbell are onboard Evil Dead Rise as executive producers, with Irish filmmaker Lee Cronin set to write and direct. True to his past statements, Campbell won't be playing Ash in the new movie, which focuses on a pair of sisters who appear to be unrelated to any prior Evil Dead franchise characters.
Next: Pablo's Ash Vs Evil Dead Season 2 Death (& Resurrection) Explained
Everything We Know About House Of The Dragon
About The Author
Share this news on your Fb,Twitter and Whatsapp